HOW CLEAN IS YOUR WORKING ENVIRONMENT?
PROBABLY NOT CLEAN ENOUGH
Introducing Purifog HYPO from Your Choice Fire & Security, the only fog system to clean, hygienize and disinfect all surfaces and air.
PURIFOG IS THE FASTEST AND MOST EFFECTIVE WAY TO DISINFECT YOUR PREMISES CURRENTLY ON THE MARKET AND THE ESSENTIAL PRODUCT FOR FULL ROOM SANITISATION.
THE BENEFITS
CLEANS AND HYGIENIZES THE AIR OF 99.9% OF VIRUSES, BACTERIA, MICROPARTICLE POLLUTION AND COVID-19
DISINFECTS THE SURFACES OF 99.9% OF VIRUSES AND BACTERIA INCLUDING COVID-19
COMPLIES TO THE WHO GUIDELINES FOR KILLING COVID-19 LEAVES NO VISIBLE RESIDUE APPLIED BY JUST ONE TOUCH OF A BUTTON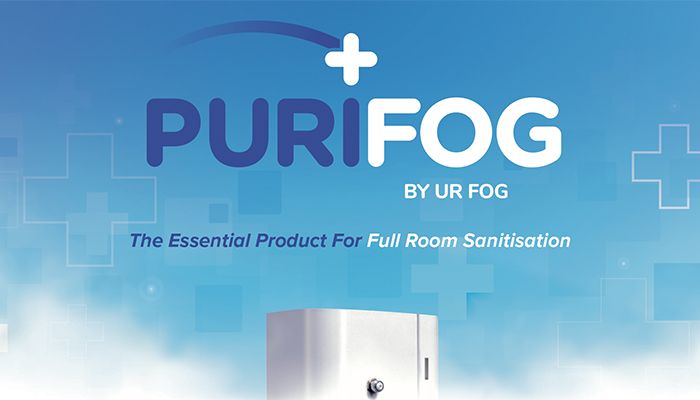 HOW Purifog HYPO WORKS
PuriFog HYPO is designed to clean and hygienize any professional or domestic environment with an estimated efficiency of more than 1700 times higher than a normal spray, due to the micron-sized sprayed droplets, that thanks to the uniform diffusion in the air, enabling it to reach all possible cracks, angles and surfaces (even vertical). This is due to the micron size fog droplets that uniformly disperse in the air, reaching all horizontal and vertical surfaces leaving nothing untouched.
Clean the air with
Purifog HYPO
Drags viruses & bacteria
particles to the ground
Cleans &
disinfects surfaces
Standard Spray Systems
Standard spray systems generally produce millimetre droplets that settle very quickly on horizontal surfaces and have a very low diffusion due to their size and weight. Therefore the likelihood of capturing particles suspended in the air is very low. As a result, it is extremely difficult to achieve a good hygienisation of the environment treated.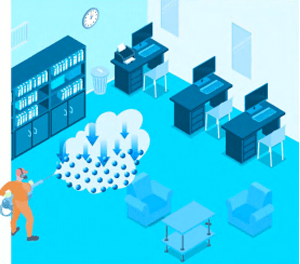 Purifog HYPO reaches the places other disinfectant can't
Purifog HYPO will disinfect all areas of your premises including all horizontal and vertical surfaces, door handles, light switches and everything it comes into contact with
Purifog HYPO leaves a micro thin layer of HYPO disinfectant on all surfaces for prolonged protection against viruses, bacteria AND Covid-19
Purifog HYPO is a dry fog and safe to use over PCS, electronics, paperwork clothing and furniture
Perfect for any environment reaching the highest shelving in warehouses to the keys on a keyboard